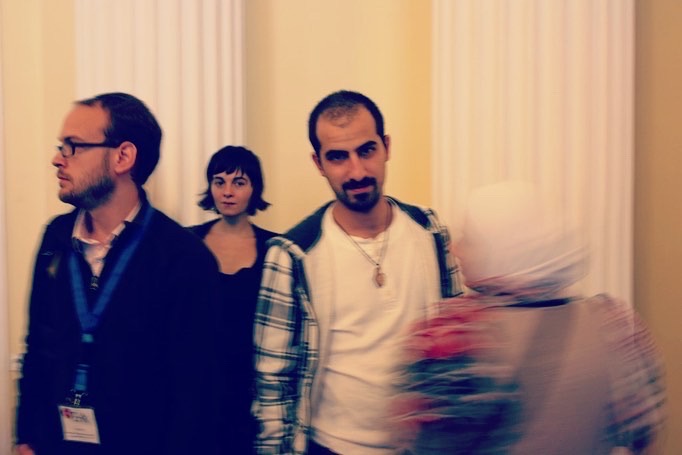 Bassel Is Here
Bassel Was Is Here.
Today we come together on Bassel Khartabil's birthday to remember, celebrate and reflect upon the impact Bassel has had on us. Bassel is known as a pioneer tech entrepreneur, open source activist, and the first investor in the first Bitcoin miner. He is loved. This writing is a reflection on him and his accomplishments.
May 22, 1981: Bassel is Born.
Bassel was born to a Syrian mom and Palestinian dad, the late Jamil Khartabil in Damascus, Syria. A gemini like Lawrence Lessig, Joi Ito, Kanye West and Ai Weiwei. What was the day like? The weather? The atmosphere is what I want to know from Bassel's Mom. Was he born in a hospital? Or at home?
Two people came together and created Bassel Khartabil. Can you imagine a baby bassel: a little head, full of hair and a neatly trimmed goatee :) He briefly cries once he emerges from the warm embrace of his mother's womb. He is greeted by his Mom and Dad with love.
The baby calms down. Both Bassel's Mom and Dad cry tears of happiness realizing their lives are forever changed. Little did they know, Bassel would change the world in profound ways.
He changed your life.
May 22, 2022: Bassel is Celebrated.
I start each of Bassel's birthdays with my morning ritual. I stretch and say a prayer. The memories come flooding back and I grasp for the memories deep in my mind, written on my heart.
Today, I turned to my email "memory". I typed "Bassel Safadi" and found amazing gems.
Thank you to our wonderful technology, which Bassel contributed source code too. Without Bassel, I could not find these emails. AH! These emails date back to the first time I met Bassel. I am joyful that each email is a path to stories that we experienced, but which the clouds of experience have buried. Some of the emails have people also in the communication.
I begin by replying to each email where there is a person attached. There are so many names :)
Noura, Donatalla, Joi, Dana, Sultan, Christopher, Barry, Pete, Celine, Habib, Mohamed, Oussama, Bilal, Niki, Ryan, Eric, Larry, Jimmy, Mitchell, Stephanie, Adam, Michelle, Katherine, Spencer, Jillian, Danny, Mark, Mike, Clement, Landon, Brad, Tyler, Noura. (Pause) Jamil, Aaron, and Elliot. Respect to those also no longer with us.
The projects are expansive that we created together in order to Free Bassel: Trees planted for bassel ("Tree Bassel"), countless books, music projects, art spread around the world, New Palmyra, and a statement from the White House. We gave it our all. We did the best we could, with what we had at the time.
The conversations are not over. The proof of life is the trickle of replies :)
Bassel is with us. Today is the day we choose to celebrate Bassel's contribution to our lives.
May 22, 2222: Bassel Will Still Be.
Without a doubt, Bassel existed, exists, and will exist. The spirit of our friend, is etched in time, written on the global blockchain we all share. He brought us together, brings us together and will continue bringing people together.
We do not need a time machine to know the party in 2222 will be something else! We only have to live in the present moment, consider our friend and what you did with Bassel. Have you told your family about him?
Today I am sitting on a plane writing this text. I cannot wait to see my daughter, Li Li. She is 2. I'm going to spend the day with her and tell her about Uncle Bassel.
I'm going to take Li Li to eat Bassel's favorite food, Pizza on Bitcoin Pizza Day. We are going to listen to the Wu-Tang Clan, Bassel's favorite music. I'm gonna share with her that time he bought a fake ticket accidentally to enter Tiananmen Square. I'm gonna share with her Bassel's paintings made from Adra, scattered around the world. I'm gonna share with her his character: he chose to go back home to Damascus to a certain fate in order to help his family and friends.
We know the rest of that story. That's the Bassel I know. Who is the Bassel you knew? Could you share that with someone :)
Happy Birthday brother, for all time.
~ Jon Phillips
Join the #bassel41 Celebration